While I'm waiting for Prayers for New Brides to be released, I've been working on something to help us all protect our marriages through prayer.
Marriage Armor for the #PrayingBride offers you a simple, one-sentence prayer based on God's Word to pray over your marriage. It is available in a daily email or a weekly digest (click those links to see a complete sample of each).
Here's a glimpse of the weekly option.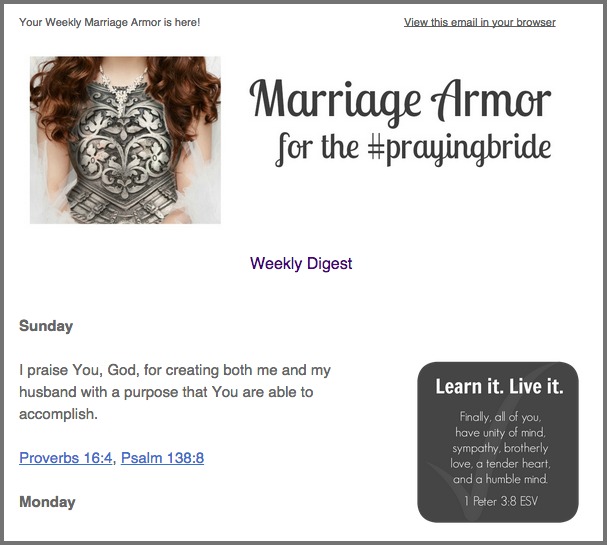 My hope is to help wives of every age and stage of marriage to simply rely on God to supply all we need and more than we can imagine. The focus is on praying God's Word consistently believing it is the Sword of the Spirit of God.
Prayer is simple and God is faithful. His Word always accomplishes His plan.
I believe He is waiting to pour out His unlimited love, power and resources on us. All we have to do is ask and believe.
Imagine our marriages a year from now and five years from now brimming with more of the fruits of His spirit than we comprehend. I believe He will use us to display faith, hope, and love to those we influence. I envision us as cities on a hill where people see God!
If you would like to have these prayer prompts delivered to your inbox, just click here to subscribe. You can easily unsubscribe at any time. I promise not to sell or distribute your email address to anyone under any circumstances.
I would be thrilled for you  to share this opportunity with your friends.